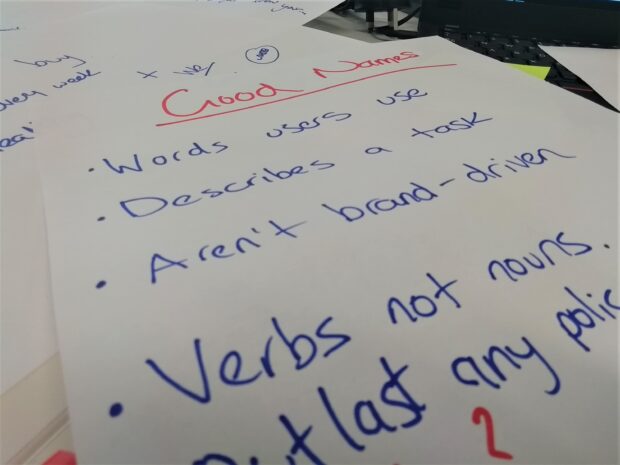 Hi, I'm Colin and I'm working on improving Healthy Start which assists vulnerable parents and children to get access to milk, fruit, vegetables and infant formula. This blog post is about how and why the team is changing the name of the service.
Why change the name?
Before I joined the team, colleagues had already researched and prototyped what a revamped service could look like, completing what in government is known as a discovery phase and an alpha phase.
The team got a thumbs up from a panel who assessed that they were meeting the standards expected of government services. While the assessment went well there were some constructive suggestions to the team. One being;
The team... need to explore options for the name of the service. "Healthy Start" does not sufficiently explain what the service does and so the team need to explore options which more clearly explain what the service does.
We knew there was already good advice and practices we could follow from around Government and set ourselves some rules which would guide us when choosing a new name.
The new name would:
contain the words users use
based on analytics and user research
describes a task
would not need to change when policy or technology changes
don't include government department or agency names
aren't brand-driven or focused on marketing.
We hoped that a better name would:
make the service easier to find, which should assist with our goal to increase the uptake of the service
make it easier for users to understand what the scheme offers, potentially needing less content to clarify what people are entitled to or are going to get when they sign up.
Changing the name
We started to think about this in late August 2018, before we even had procured a team to help us deliver a new version of Healthy Start. We did this as we had the capacity to think about this issue, do some research and come up with something testable for when a team arrived. We wanted to get feedback and look at evidence to inform our decisions, here is a step by step summary of what we did;
Step 1: Get input
We solicited people for feedback, not just in our team but beyond. We stuck a big piece of paper on a wall within the department. We put it in a place where there would be a decent amount of footfall (next to printers). With it we had a suggestion sheet and lots of post-its so anyone that walked by could contribute anonymously.
Step 2: Organise workshop and research
We organised a session to collate existing ideas, drum up any last minute suggestions and make a decision on which new name to test further. Alongside this I was digging into the analytics of GOV.UK, reviewing how many people were searching for 'Healthy Start' and what alternative terms appeared popular to inform our decisions.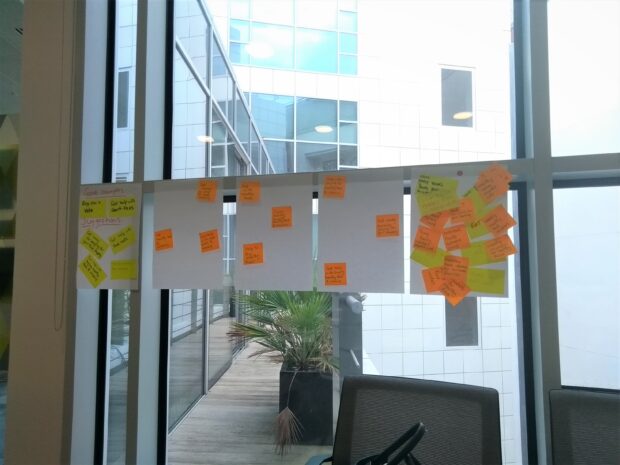 Step 3: The Workshop
The session comprised:
Going over why we need to change the name of the service, a reminder of who our users are as well as best practices of names of services
We then followed the 1-2-4 all technique to co-create extra suggestions, always keeping in mind the words our users would use
all the suggestions we had (including those we had received from people outside the team) were on the wall and we stuck the 2 new suggestions amongst them
As a group we filtered all the ones that met the standards of a good name and filtered out those that did not
We were left with around 9 and then voted on which ones were the best ones to take forward
Step 4: Choosing a name
The name which scored highest was 'Help for families to buy healthy foods' and became our first candidate to replace 'Healthy Start'. Followed very closely by 'Help to buy healthy foods'.
Step 5: Making adjustments after feedback
We shared the name around with people internally and most were happy but over time we collectively came to the conclusion, after discussions with colleagues, that the name was just too long, hard to remember and the 'for families' part felt redundant. So we made a tweak and sided with 'Help to buy healthy foods'. You can't expect to hit a home run on your first swing!
What next?
In the past few months we've been working hard pulling together a new team that is now up and running and beginning to build the new revamped Healthy Start service.
We are now on the cusp of actually testing with users if 'Help to buy healthy foods' is any good. The name isn't set in stone as we need to see if the name performs any better than the current name and be open to any better alternatives.
With a full multidisciplinary team now in place we will be:
doing more research with users to find a suitable name
further reviewing analytics to see how the name performs.
We will make sure to write another blog with any updates we get back from our research. We continue to test, learn and share.
If you have any feedback or suggestions then contact nhsbsa.healthyfoodbeta@nhs.net. We'd love to hear from you!