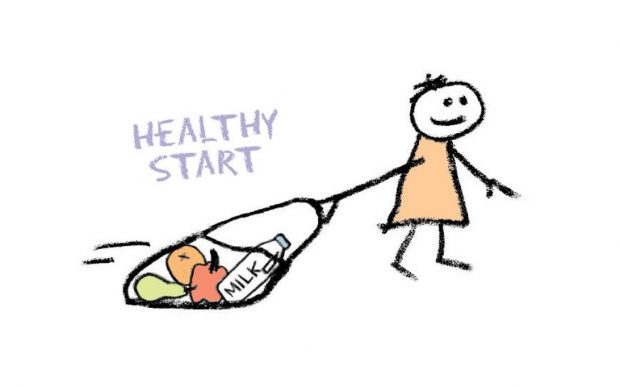 Hi, I'm Colin and I'm working on improving the Healthy Start service. This blog post is about a survey the team did with retailers to understand how they administer Healthy Start and their feedback about the service.
What we did and why?
Healthy Start currently requires retailers to sign up to the scheme. They are crucial partners to how the service works - namely claimants exchange their paper vouchers for eligible items. There are other interactions such as Healthy Start needing to reimburse retailers for accepting the vouchers.
The team had identified from previous research efforts and assessments that retailers were a group we needed to speak to more. Our colleagues at GDS suggesting we focus some of our "research activities with retailers that accept the vouchers - understanding more about their needs and pain points and how the experience can be improved for them and the end user."
So while procuring a supplier to help us with private beta, we decided to see if we could get some feedback from our retailer contacts and decided to run a survey. Not unlike our survey with local authorities and other stakeholders.
Participation
We had 36 anonymous participants and we asked 11 questions.
No questions were mandatory.
The survey was open from October 2018 to early December 2018.
Across the 11 questions the median response rate was 29.
Free-text questions had the lowest response from participants.
Summary of what we found:
Who were the participants?
75% of the survey participants worked at Small supermarket/convenience stores (e.g. Tesco Metro or Express, Sainsbury's Local), 12.5% said they worked at larger-sized supermarkets
93.3% said they accepted Healthy Start vouchers
Experience with customers?
when asked 'How often do staff check that a customer using Healthy Start vouchers has bought fruit, vegetables, milk or formula?' 77.4% of respondents said always
when asked how they check if eligible items are being bought they told us that this mostly happens at checkout by a member of staff
when asked 'How often are those using the vouchers trying to buy non-eligible items?' respondents said 30% never did it, 30% sometimes, 23.3% sometimes and 16.7% always
respondents told us that training/guidance does take place with staff about how to administer the Healthy Start scheme. Nobody responded to say that zero training is given.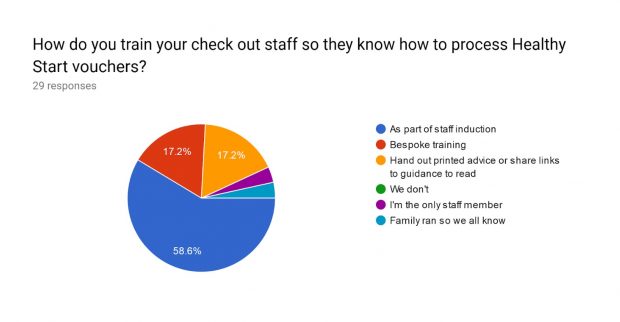 Experience of claiming for reimbursement
when sending vouchers back to be reimbursed most respondents (65.4%) told us that they send them back to us via our freepost address
76.9% said they bundled up vouchers for reimbursement and sent them quarterly
65.5% of respondents said it costs them less than £3 to send vouchers to us per year.
Satisfaction and pain points of the Healthy Start service
71% of respondents said they were very satisfied or satisfied with their overall satisfaction of being part of the Healthy Start scheme
we asked respondents to tell us the biggest pain points of the scheme from their perspective they told us about "damaged vouchers", "not being paid for expired vouchers", "void vouchers" & "sending them off to claim"
What next?
The team continues to be passionate about learning what is needed to make the new Healthy Start service better. We will continue to seek feedback and advice and be approachable in the wider community that surrounds & supports Healthy Start.
This survey gives us some clues about further questions to ask our retailer partners. More research will be conducted so watch this space.
If you want to get in touch, be involved with research or have any questions you can email us at: nhsbsa.healthyfoodbeta@nhs.net