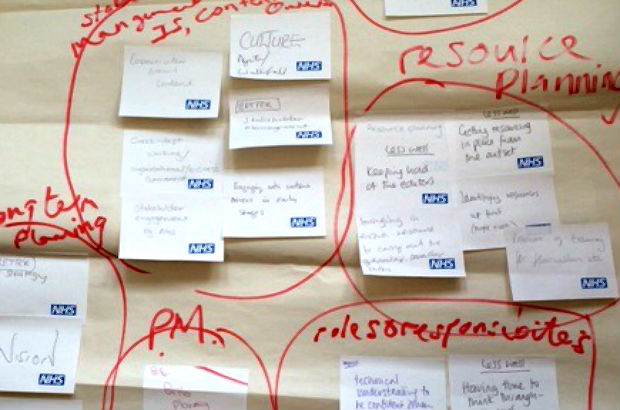 One month ago we launched the Department's new intranet, including our new PolicyKit, in a fanfare of public sector savings, staff satisfaction, and another big win for small UK digital businesses.
We're planning to share everything we've learned, and all our code. We'll be talking about it at a Government Communications Service 'Comms Exchange' event on 15 October at DH - open to all in government and all members of the GCS network.
But in the meantime, here are 3 of the biggest lessons we've learned. There is pain and pleasure in delivering a civil service IT project ahead of schedule, under budget, and oriented solidly around user needs. We'll be happy to talk through all these in more detail at the event.
Honest lesson 1: Agile and waterfall aren't easy bedfellows
'Agile' and 'waterfall' project management have very different expectations. Waterfall ('Prince2') sets the whole project up at the start, and follows down the path to 'launch'. Agile recognises that solutions, especially in technology, can be created much more rapidly and cheaply now than in the past, and tries to take advantage of that to allow more flexibility as a project develops.
Although it might sound better, agile also has a reputation for avoiding written records and taking an unhealthy approach to risk. Despite all our efforts to mitigate that with traditional project management tools - TOR, TOM, PID, RAIDs, an action log, etc - some parts of the department still claimed we were 'digital warriors' who were 'flying by the seat of their pants' (actual quotes). We didn't deliver a formal business case until very late in the project, because writing and rewriting it would have placed an onerous burden on our small delivery team.
In retrospect, we should have managed those expectations better. But caving to tradition also stopped us achieving the agility that could have shown off this project even better: the 'minimum viable documentation' described by Pivotal Labs' Jonathan Berger and GDS's agile governance initiative.
That would have meant less time fighting the internal battles, and more time focusing on the task: delivering a great experience at low cost.
Honest lesson 2: You have never done enough engagement
The intranet. An internal communications tool. Delivered by DH digital in conjunction with DH internal communications. A golden opportunity for textbook internal comms, right?
We thought we'd done pretty well. 300 people participated in the user needs discovery phase. 100 helped us test the alpha. Another 250 fed back on the beta. And all the time we were focusing on taking our audiences up the ladder of engagement one step at a time.
But even we didn't get the key message (recap: user needs!) quite right. We know this because, despite an 80% satisfaction rating already, we've still had almost 100 requests for content to be added - most of which are pages that individuals 'owned' on the old system and want replicated on the new one. And if we're honest, most of those requests come from 2 or 3 areas of the department which we should have engaged with better in the run-up, but were probably a bit scared to tackle.
So the lesson: don't avoid your hardest audiences. They may not be your biggest advocates, but it will be better to have them sitting on the fence than advocating against change.
Honest lesson 3: The best is yet to come
Perhaps the biggest lesson of all is that we cannot rest on our laurels. Taking over the ownership of a project from a large IT consultancy and a very experienced internal team means that we have a steep learning curve in understanding the legacy of business needs.
But it also means making, and keeping, our commitment to the needs of our staff. Stemming the internal tide of pressure to deliver things what the business thinks it wants, but which users don't, has been and will continue to be the hardest thing to stay stuck to, especially when calls for requirements come from the very top of the office.
So we'll be listening hard online and in person for ideas and feedback. Diving into analytics to report honestly on what staff really need. Writing a little triage for new functionality, which we'll also share with staff on the intranet itself.
In response, and perhaps controversially, we've fenced off part of our budget this year to meet staff demands not yet known. This means we are confident we can keep building the internal tools that staff need to do their jobs fast, cheap and iteratively. This way we can keep delivering civil service digital transformation that should be no surprise at all.
We'd welcome comments, suggestions and thoughts: tweet us or add below.