Towards the end of last year, I popped across the Thames from Public Health England's (PHE) London offices to the Department of Health (DH) in Victoria. I'd just being loaned to DH Digital to lead on upskilling and coaching a DH policy team on user research.
The next couple of days reminded me where I'd got my long-held belief that coaching and mentoring doesn't need to be a formal series of meetings where people awkwardly recount professional experiences. Just as valuable are the casual conversations that simply bring together different perspectives and experiences. In those situations, learning follows naturally – and that's something all healthcare teams can benefit from.
The team I worked with is a group of passionate and driven people in DH's Global Health Security Team. They're the force behind the Fleming Fund: a £265m One Health Programme to support 24 low- and middle-income countries in tackling antimicrobial resistance (AMR). In other words, they're the team ensuring the vision of the Fleming Fund comes to life!
A major part of the project is making connections across the 24 countries, ensuring the fund's information and services reach users in an easy, timely way. This requires creative thinking about the unique challenges each country faces around technology and governance. But it also requires an in-depth understanding of how users in each country want (or need) to receive information and services – digital or otherwise.
My challenge was set: I had three days to inspire, educate and coach the team to do their own user and stakeholder research at an upcoming conference – a great opportunity to learn and gather insights to inform the digital aspects of the Fleming Fund.
Because of time limitations and the fast-approaching conference, I decided to break the tasks into manageable chunks. Here's what we did:
Day 1: getting to know each other and getting stuck in
 I first reviewed the user research to date and drafted a rough plan in my notebook before meeting the policy lead, Fateha.
After explaining my thinking to Fateha and some of the other policy team members, we got stuck into talking about the project, their experiences with users and stakeholders so far, and what they wanted to achieve at the conference.
By the end of the day, I had a good sense of the project, the team, and what they could achieve at the conference. I learned they'd independently started doing pockets of user research – but with limited knowledge of user-centred design or digital ways of working. I also learned they were eager and willing to learn more about their users, and find out how to do so.
After a day of learning about them, it was time to turn the tables and for them to learn about my world. To help the team prepare for the next day and the activities we'd be running through I gave them some light overnight reading on user research, including parts of the Government Digital Service's Service Manual.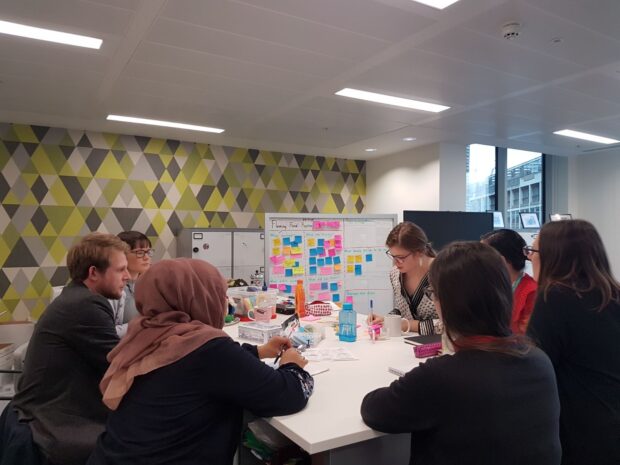 Day 2: scripting and role play
We'd agreed that the research at the conference should be broken into two parts: guerilla user interviews and user testing of the prototype website.
The policy team and I met bright and early to design the scripts and discuss the practicalities for both parts. Each team member was given a role and responsibility, like doing guerilla interviews, setting up the recording equipment or ushering conference attendees over to the user researchers.
The afternoon was a lot of fun – as usual with role-playing! Each team member, including myself, took turns practising with members of DH Digital and each other, refining the scripts as we went. Afterwards, it was time for the team to put their learning into practice at the conference – and they were on their own.
Day 3: download
The day after the conference, I met up with the policy team to run a retrospective and discuss the first round of high-level insights. This gave each person a chance to share thoughts on their first user research session: What worked? What didn't? What did they learn? How would they do it differently next time? I was heartened to hear how enthusiastically and energetically the team ran their research on the day.
The download was also an opportunity for me to learn and get feedback on how useful the mentoring had been: not just in raising the user research skills and confidence of everyone in the team, but also in making it enjoyable at least part of the time!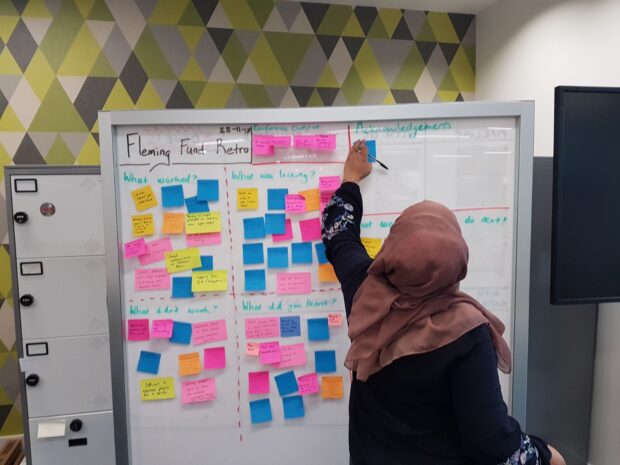 Working across the healthcare sector
Working alongside the Fleming Fund team at a crucial point in their project, and supporting them to learn a new approach to service design, was a highlight of my year. I shared my own experience and skills – while also learning how a policy team functions in a high-profile global project with many competing priorities.
For me, coaching and mentoring is a great technique for upskilling people – particularly in new ways of working like user-centred design. I've been both the mentee and the mentor, and each time I've learnt something new. As the benefits go both ways, it is something we need to do more of in the healthcare sector – whether it's between teams or between departments.
Coaching and mentoring doesn't have to be "formal", either: sometimes it's a simple as bringing experience from another part of the healthcare sector to work alongside an established team, providing a fresh perspective. Or, even simpler, just being available to take a call or go for coffee, and chat about a challenge a colleague is facing or a question they have.
If you're new to user-centred design or digital, join the DHSC Digital Product Manager and Friends meet up to connect with other teams in healthcare and share experiences. Contact Dharmesh Chauhan, Product Manager at DHSC Digital, to learn more.