Back in August, we introduced you to the 'Having a baby' discovery project, an exciting new research project we're running. The project seeks to better understand the maternity journey through the experiences of women and families who are having a baby and the professionals who support them, to identify opportunities for how we could improve their experience through better use of digital technology. We want to understand what would be most helpful to mothers and their partners during this life stage and to feed this into our future thinking.
Last month, two guest bloggers working on the baby project, Alex Nisbett from Livework Studio and Leisa Reichelt from Government Digital Service (GDS) blogged about the benefits of user research, how the methodology differs from market and academic research and shared some of their top tips for running your own user research.
Today, I wanted to share some of the insights and learnings from our research and provide a bit of an update on our progress so far.
The research
We started running the first phase of our research back in June/July. We contacted a number of individuals and organisations working in the maternity field and captured a wealth of insight and previous research which we could feed into the project. Our previous blogs about the project also generated a lot of interest from people eager to feed into the project or supply us with insight and research.
We also interviewed 12 families and 12 midwives and health visitors. Our user research approach, which Alex describes in more detail in his blog, yielded a huge number of insights despite the relatively small sample size.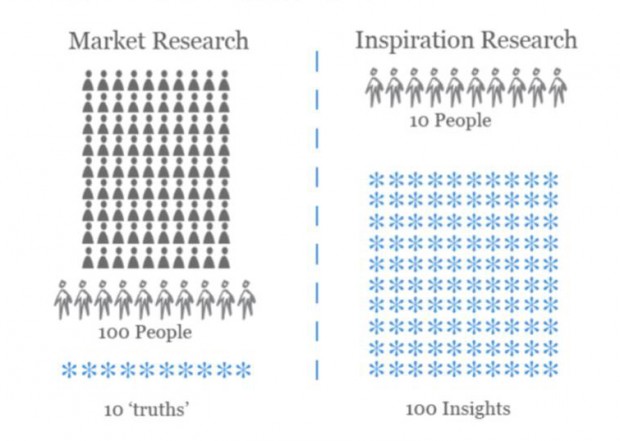 Below are the key insights we learned from the families and professionals we interviewed and the three main conclusions we came to from all the initial insight we gathered.
Insights from families
Past and future drivers
Families can be recognised by the way they associate with pregnancy eg. medical history, aspirations
Counterbalancing
Couples often fill the blind spot created by their partner – work together
Taking control
Many families feel they lack control of pregnancy. Need support to be proactive and utilise networks and resource more effectively
Transitions in identity
Families need support to understand and adjust to identity shift eg. body image, role as parent, becoming a family unit etc
Points of reality
Scans only indicator of reality of pregnancy. Families need more opportunities to make it real – see and understand future.
Information
A vast array of information is available, but families struggle to filter what is relevant, recognise what needs to be processed, when and any action needed
The savvy consumer
Today a high precedent is being set by other service organisations. Families expect a 24/7 on-demand experience to empower them
Reaching out
The more informed the parent, the more able they are to ask for help
Trust
There needs to be authenticity and authority; for self belief, engagement with people, information and the NHS.
Insights from midwives/health visitors
Search for truth
Continuous effort to build trust of mum and find real issues that need support
Grey boundaries
Sometimes it's not about the baby, but wider issues eg. family context, housing, addiction etc. How can NHS integrate better with other services.
Milestones
Families need clearer understanding of NHS process and journey eg. key milestones, frequency of contact
Continuity of care
How can the impression of continuity be given without additional resources
Bureaucracy
What steps can be taken to reduce administrative barrier to support eg. paperwork, forms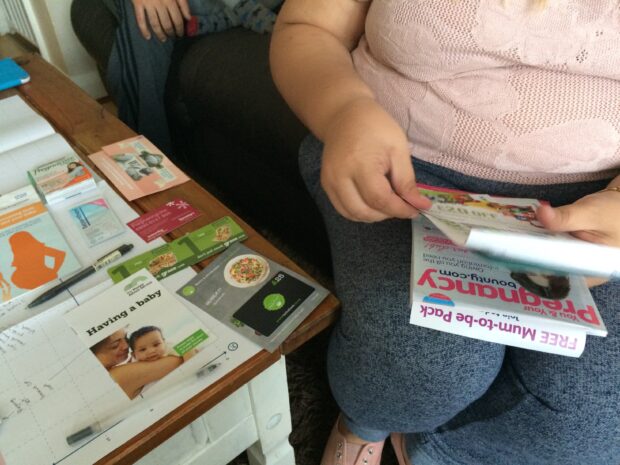 Overall conclusions from early research
Trust
Trust is integral to the success of every interaction along the lifecycle, the journey, of having a child. It is the foundation upon which a smooth experience is based.
The opportunity
Make this a core mission of the service. Allow it to become the driving force and principle for how decisions are made. If trust can become a product of all activities in this transition, it will provide a solid base from which everything else can grow.
The lifecycle
There is a discrepancy between health professionals and families view of what the lifecycle 'is' in terms of having a baby and in terms of the services provided.
The opportunity
Align these differing perspectives, so that there is a shared view of the process, the timeliness, and what and how is provided.
High-performing families
The health service is based on a legacy of excellence, but it now exists within a fast moving world where behaviours and expectations of families have evolved as they engage with increasingly sophisticated service organisations, and come to pregnancy with a range of personal histories and contexts.
The opportunity
To acknowledge and support the myriad of family values, needs and behaviours to create both a better experience for them, and in turn higher performing families for the health service.
Design and prototyping
Once we'd crunched through all the insights from the research, we ran a number of design workshops to develop tools and models that would help us in our prototyping. We produced an enormous information map (literally, 6 feet long), a variation on the customer journey mapping we did during the interviews. This helped us to establish an 'official' view of what information is shared and when, against the experience of our research participants, to identify opportunities for improvement.
We also developed a number of personas and using all these tools created 21 potential concepts for prototyping. We then whittled these 21 concepts down to 12 which we felt had the most potential and worked these up to a stage where we could present them to our project Steering Group.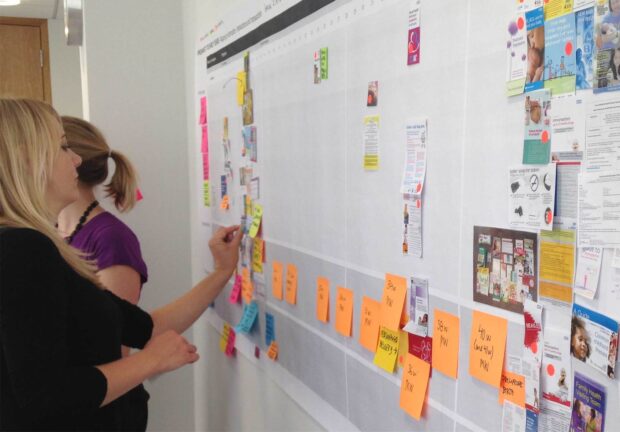 The project Steering Group, which comprises senior leaders from both maternity and digital disciplines, from Department of Health, Public Health England, NHS England, Royal College of Midwives, Royal College of Obstetricians and Gynaecologists, Royal College of Paediatrics and Child Health and the Government Digital Service, met on the 17th September and chose 3 concepts (from the 12) for us to develop into early prototypes for wider feedback.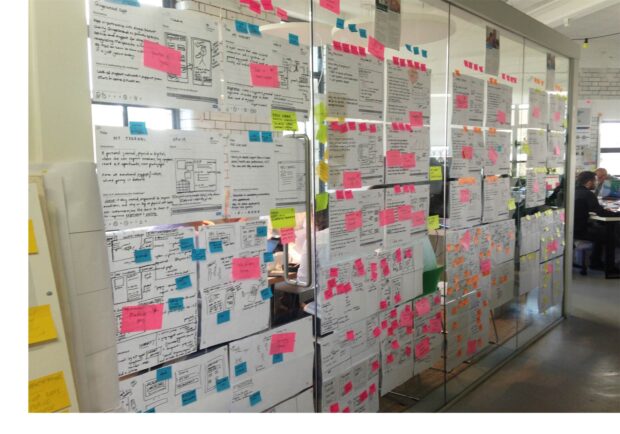 We've just finished working on the early prototypes and have started sharing these with the families, health visitors and midwives who took part in the initial research and others who have expressed an interest in the project. A number of telephone and face-to-face research interviews are also taking place this week. The point of the exercise is to learn in more detail what would be useful to mothers and clinicians which we will feed into the NHS Maternity Review.