A few weeks ago the DH digital team embarked on a research project to look at the experiences of women and their partners who are having a baby. We wanted to take a broad view of how people interact with health and government services at a significant life transition point, and identify opportunities for how we could improve these experience through better uses of digital technology.
Our starting point for the project was the need to look at the services and advice provided to people during pregnancy going beyond organisational silos, ensuring products and platforms meet the needs of users rather than the requirements of the system. Although there is a plethora of industry, government and third sector funded digital initiatives dedicated to this life-stage, it can be difficult for people to know what's out there, and what will be most useful or relevant.
This situation is by no means unique to 'having a baby' as a life-stage but recent research published by the National Information Board, highlighted that there was a real opportunity for improvement, both here as well as in end of life care.
As a digital team, we're obviously not experts in maternity or child health so we quickly established a working group with representation from the Department's maternity policy team, as well as NHS England and Public Health England. And we set up a steering group with senior leaders from the Royal College of Midwives, the Royal College of Obstetricians and Gynaecologists, the Royal College of Paediatrics and Child Health, the Government Digital Service and the NHS Maternity Review team to make sure we focussed our efforts in the right place.
We've also brought in a specialist service design agency, LiveWork, to run the research project with us and to gather insights from women who are about to have or have recently had a baby, as well as their partners and relevant health professionals.
In the first phase of our research we carried out interviews with midwives and health visitors across the country. The question we were seeking an answer to was:
What is the experience for families interacting with the health system and government as a whole, before, during and after their child's birth?
And
What do they need and value during this life-changing experience?
The outputs of this initial research then helped us focus in on which areas we should explore with families, taking the same qualitative approach.
Following the interviews we mapped the high-level needs of mothers and families throughout the pregnancy into the first few weeks of their baby's life. We also identified which products and services are already available e.g. the Information service for Parents, and what people's experiences were of these.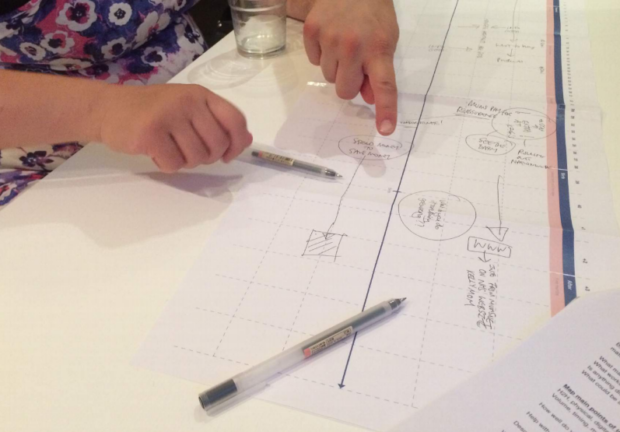 In the next stage of this project we are reviewing the 'official' view of what information is shared and when, against the experience of our research participants to identify opportunities for improvement. And we will then prototype some potential solutions that would contribute to a more integrated user experience.
We are working closely with the organisations mentioned above but we also want to share this work with a wider audience. We will publish more about the methodology and findings on this blog and highlight opportunities for people to provide feedback.
If you have an interest in this project and would like to be involved please get in touch by either commenting below or emailing my colleague Sarah Wood, who is co-ordinating this work: sarah.wood@dh.gsi.gov.uk.