Our digital strategies have tended to focus on internet culture, transformation and change rather than content. But the production and distribution of content has always been integral to everything we do in the DH digital team.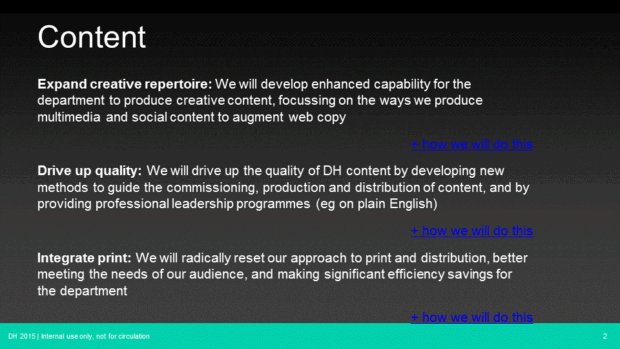 Our content function is very well established. In fact, everything else we're doing across the DH digital team now emerged out of what was once a digital content and publishing operation.
And we're pretty good at it. Our confident and empowered team are respected across Whitehall for our approach. But we've far from mastered it - there's lots more to do.
It's easy to get excited about other bits of digital transformation, but improving the ways we create and distribute content, and changing how people gather, consume and are moved by the content that we create, could actually be the most transformative thing that we do.
So our focus this year will be to:
Expand our creative repertoire: We will develop enhanced capability for the department to produce creative content, focusing on the ways we produce multimedia and social content to augment web copy
We have skilled copy editors, and good processes in place for managing our publishing workflow. But we don't always make the most of opportunities to move beyond publishing copy on our owned channels.
Of course, we  have sometimes used video to good effect, and we've dabbled with graphics and audio. But we need to move beyond dabbling.
So this year, we'll be focusing more of our effort on expanding our creative repertoire, increasing our confidence using a wider range of channels, and measuring our content's impact wherever it sits, in whatever format suits the task.
Drive up quality: We will drive up the quality of DH content by developing new methods to guide the commissioning, production and distribution of content, and by providing professional leadership programmes
While some of our work on content will always be about the hands-on production of content by our in-house team, we are responsible for overall quality of DH produced content, and that often means assuring the work of others, and putting in place processes to drive up standards.
We've probably been more comfortable doing it ourselves, centralising rather than devolving responsibilities. But that's not sustainable for a little team in a big department.
So this year, we'll be putting more effort into support and training, starting by rolling out our plain English programme. We'll focus more on the ways we share and act on insight about our content. And we'll spend more time reviewing our channels and processes, rather than just managing them.
Integrate print: We will radically reset our approach to print and distribution, better meeting the needs of our audience, and making significant efficiency savings for the department
We have a bias towards digital, but we're responsible for the ways we print and distribute physical content too. We are a content team, not a digital content team.
Our print function is probably the least understood, least celebrated of all the things we do. We've made some efforts to integrate print and digital content in the last few years, and we've saved some money by printing less. But our approach to print, and our mechanisms for print and distribution, have remained largely unchanged.
This is probably our greatest opportunity for transformation. So we'll be applying a more digital mindset to better meeting the needs of users of our print material. And we'll start to integrate print and digital wherever it makes more sense to do so.