I joined the Department of Health as the head of digital strategy in July 2013. Since then, our little team has saved less than £1m, not created any new jobs, not revolutionised health and care, and not spent its budget.
And that's all a good thing.
Because the point of a digital strategy is to enable, catalyse and inspire. When I first arrived, Rachel Neaman, Stephen Hale and team had agreed a 35-point plan to kickstart digital at DH. Oh, simple stuff, like 'adopt a digital first approach to all communications', and 'create a new minimum digital standard for consultations.' Anyway, so we did that.
Then we decided we needed to start again, and do it differently. And that's when it really started getting exciting, because in government, doing things again and differently isn't exactly a comfort zone. But through our track record of delivering fast and well, our relentless focus on users, and our perhaps slightly rebellious attitude, our senior colleagues gave us a huge mandate to do more and better.
'This is catalytic,' said Una O'Brien, our Permanent Secretary.
We've tried to rise to the challenge. In government - as in many brilliant public sector organisations I've worked with in the past – 'strategy' can mean 'a list of tactics'. But that's not strategy. Strategy is the 'why' and the 'how', not the 'what'.
So in the spirit of strategy, this is a valedictory blog post which shares 3 ways we have done our work. I hope others in similar roles around government find it useful.
1. Write a compelling core narrative, then tell it a thousand ways
We've described our work in a number of different ways to our various fans and critics. We've boiled it down to 5 words and stuck them on the wall. We've written clear, simple statements about the capability work we've been leading across government (summary: no excuses, be confident). We've done delivery, which is like saying 'The strategy is delivery' except doing it. We've made some very pretty slides.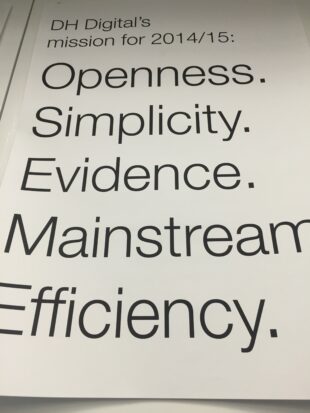 But in all this we very rarely mention the word digital. Why? Because our work is not about digital. 'Digital' is just catalysing and inspiring, so that stuff gets done better. That involves very few computers. It's mostly about shifting people, processes and mindsets.
One day the strategy is to sell in a capability plan to HR, so that all new starters will go through a digital induction; the next it is to enable a policy team build an online map of dementia, to demonstrate what good visualisation should look like; the next it is to play with a programme that might be able to read text from consultation responses.
That's not conflict or flip-floppery; that's just catalysing and inspiring. And that's strategy.
2. Strategy is 1% stroking chin, 99% burning rubber
Building an intranet sounded like a really irrelevant thing to do. But 9 months of hard graft proved so many things. First, you need a shop window. We made a thing that civil servants from new starters to Directors-General could say 'oh, so that's what a good service should look like'. (And now far beyond DH, thanks to having opened our code, held a huge GCS event, blogged like nobody's business, and taken the Kylie and Jason roadshow to 8 departments and counting.) That's inspiring and catalysing, and that's strategy.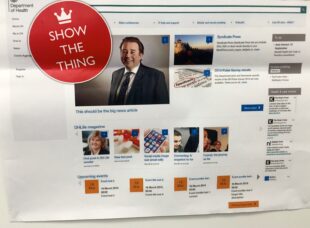 Second, taking on big IT contracts isn't scary, and the benefits are massive. At one point, DH's mission IT supplier Atos told us that we had taught them some new things about product delivery. Our intranet cost just 10% of the system it replaced. As an example of what is to come, that is a compelling offer to the financial side of the office.
And third, disruption is sexy. It is testament to the resilient, experienced, serene team - Rachael, Sarah, Hong, Francis, Kylie, Mandy, Stephen - that despite all the resistance to change, the overwhelming response from staff was one of surprise, delight and appetite for more. We even got a thank you card from the Permanent Secretary. For an intranet. Seriously.
3. Love your network
In the past year we've grown the #govcapabilitea network of digital skills doers to include 15 departments. We've held 20+ one-on-one masterclasses, aka wide-ranging chats about the art of the possible, with our Directors-General. We've convened a brains trust of insight, behaviour, analysis and strategy wonks within DH, so that they can work in a nicely joined-up way on big issues (especially consultations, so watch that space). We've discovered that 'open policymaking' and 'digital' were actually the same thing all along. Warm fuzzies all round.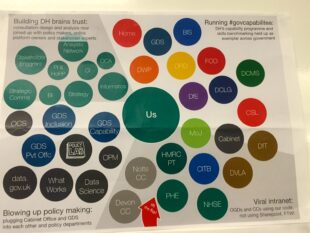 Without our network, we couldn't have enabled, catalysed or inspired anything. And we couldn't have had the trust to lay the groundwork for what needs to happen in the future. For instance, although DH's new citizen engagement platform launched this week, the DH Executive Board signed off the rationale and roadmap 6 months ago, and inspiring the policy leadership to back change started long before that. (Spoiler: there's more to come on that front).
But that's catalysing and enabling, and that's strategy.
So I'm very lucky that I've had such an awesome job at DH as head of digital strategy, but that's really the job of the whole team – and of the whole department.
My formal title, Digital Strategy Manager, is much better. Because all I've done is enabling. And that's strategy.