In March, our team at Public Health England (PHE) wrapped up a discovery phase, exploring how to support children and their families on healthier weight journeys.
Helping families follow healthier lifestyles, including reaching a healthier weight, is a national priority. Currently, the number of children with excess weight across England is increasing, with over a third of children leaving primary school above a healthy weight.
PHE is exploring how a digital approach could help deliver the goals of the national child obesity plan. Read more about the discovery research and outputs in our previous blog.
Central to our discovery was looking at this complex problem from the users' perspective and bringing together both design and behavioral insights practices. This work showed PHE's commitment to excel together, uniting academics, subject matter experts and policy officials in a multidisciplinary design-thinking team.
Meet the discovery team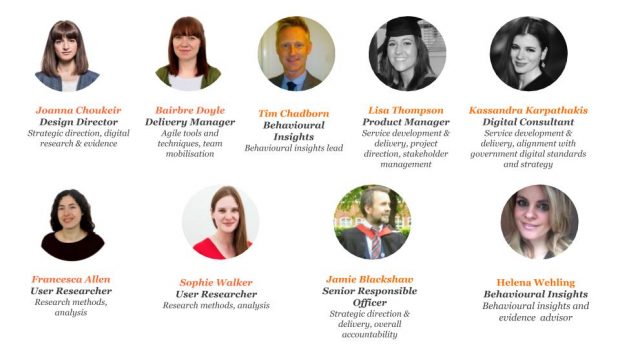 PHE engaged Uscreates, a service design agency that focuses on improving health and wellbeing, to help form an integrated, multidisciplinary team. Our team was a mixture of experienced design thinkers and scientific experts.
Pooling our expertise
This work gave us the opportunity to blend the team's wide and varied experience.
We began by reflecting on the existing approaches to motivate and support children and families in seeking and sustaining healthier lifestyles.
We shared what we knew about the situation, listened to each other and worked towards a common understanding. This helped us form a shared vision and highlighted important areas to explore with families. Applying user-centred design methods, we quickly found ourselves bouncing ideas around, developing our understanding and challenging our assumptions.
Team members with experience in design thinking guided ethnographic research with 10 families with children above a healthy weight. This gave us an understanding of and empathy with the 'why' behind the 'what' of increasing childhood obesity rates, at least in the families we spoke to.
We used behavioral science and design methods to synthesise and interpret the findings, understand the families' needs and map out their journeys. We then used co-design methods with the families, helping them come up with their own ideas that might best meet their needs.
Challenges and successes of the approach
PHE is in a privileged position to combine subject matter expertise from across the public health space with design thinking.
As in any project involving new ways of working, this work had its challenges. These included:
helping teams think differently and prioritise agile ways of working – this includes flexibility on resourcing and seeking approval on business cases when the final product is currently undefined
working at pace while colleagues were stretched over multiple projects. We worked hard to protect the team's time and focus, maintaining momentum and making timely decisions. We worked sprint by sprint, shifting resources and activities to keep the project moving and delivering
finding work space, which was in short supply at both PHE and Uscreates. Uscreates provided a collaboration space for show-and-tells, retrospectives and milestone workshops. Both organisations are within a 25-minute walk of each other, which helped us collaborate during the discovery phase
language and communication styles, including discipline-specific language
enabling the team to embrace design thinking and the Government Digital Service (GDS) approach to discovery research – especially the uncertainty and openness of the process
But as well as the challenges, we had some great successes:
creating a cohesive, collaborative multidisciplinary team composed of design-thinking, subject matter experts, and academics. We worked as one united team, rather than as disjointed individuals or departments
adding different viewpoints to the GDS-styled discovery phase: it has become something new, and not simply derivative
upskilling Lisa Thompson, from the Diet and Obesity team, in product management
breaking down communication barriers, including digital jargon, to find a common language
securing buy-in and engagement from across the healthcare system. This included government and NHS colleagues, local council commissioners, and providers of child and family weight management services. We conducted in-depth interviews with experts, ran fortnightly show-and-tells and met with a senior stakeholder group each month to share learnings and gather early feedback
completing the discovery phase and passing an in-house service assessment run by the Department of Health and Social Care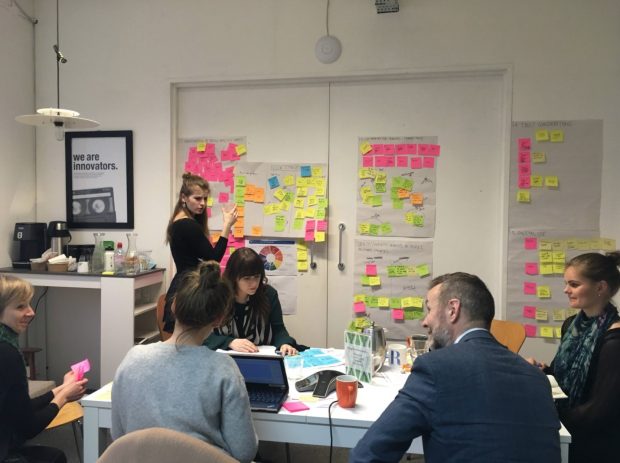 Designing user-centred services in public health
To deliver public health in a digital world we need to harness and create novel, non-traditional partnerships across government, academia, the technology industry and scientific bodies.

– PHE Digital Strategy, 2017
There's a growing need for multidisciplinary teamwork in public health, particularly as we grapple with ingrained cultural and social factors that keep families from living healthier lives. PHE is using its skills and knowledge across disciplines to design comprehensive, personalised services – making the most of the fast-paced technology that's already changing people's lives.
Our approach combines the blossoming field of service design with established life and behavioural science approaches. This lets us navigate the complex health landscape, while also keeping the focus on creating services that work for the end users.
Designing public health services that meet the needs of different generations and sustains changed behaviours is a major challenge – but it's also a fabulous opportunity. By grounding approaches in user needs, we can better understand how to help families across England as they embark on healthier weight journeys.
In short, we're changing our approach to designing health services: not just making them for users but designing them with the users themselves.
Join our team
Service design is relatively new at PHE. We hired our first service design lead, Cate Care, and started building a fully fledged service design team last year.
If you're interested in learning more or joining our grassroots movement – using service design to address public health problems – get in touch with kassandra.karpathakis@phe.gov.uk or cate.care@phe.gov.uk.
If you'd like to learn more about the outputs of the discovery phase for this project, get in touch with Product Manager lisa.thompson@phe.gov.uk.