I joined DH – and the civil service – at the start of the year and, with my colleagues, have developed a new approach to social media insights at the department.
This has now been in action for over 6 months, and as we move through to the latter stages of the department's change programme, this seems like a good time to review what we've been doing, how well it's gone and where we see the future of social media insight in DH communications.
What have we been doing?
To ensure we have the most impact we have concentrated our efforts on higher priority programmes. We are providing end-to-end support covering everything from digital objective and key performance indicator (KPI) setting through to in-depth insight packs and ongoing event-based and regular reporting. We also aim to have wider impact by supporting other priority areas at significant points in a programme's cycle, such as in-depth evaluation.
We have set ourselves up to have an overview of the issues across health through the introduction of our social media barometer. By daily reporting on this, we can quickly spot variation in social media activity around high level topics and how the points of discussion are changing. This allows us to quickly capture any issues or points of interest.
To support all this work, we have bought a new social media analysis tool to provide both the depth of detail the digital team wants to achieve and easy access for other communications colleagues. After assessing almost 15 tools on a range of criteria, including their analysis and visualisation features, we settled on Brandwatch. But the process really showed us that there is no Holy Grail: it's a decision on what fits best with the team and its needs.
A significant factor in selecting our new tool was its unlimited user allowance. This was vital to supporting our training programme to increase social media insights capability across the communications division. We have started to roll out our training with some success, and I will write more about that in a later blog.
So, how well has it gone?
First and foremost, how have our insights been used? At a tactical level we have been able to provide the evidence to make informed decisions on messaging, channel choice and community engagement. More strategically, we have been able to guide objectives and communications plans to meet our digital audiences' needs. Policy colleagues have also seen the value of our insight in understanding the general mood of online conversation and key stakeholder comment.
To gain a more robust picture, we conducted a survey with DH communications colleagues working on our higher priority programmes. The results showed that our internal customers believe we are achieving our 4 strategic goals and our reports are:
regular (100% agreement)
proactive (67%)
in-depth (78%)
and actionable (78%)
The challenge now is to improve the model by increasing our focus on our external audiences.
Where next?
Looking at our survey results and a subsequent SWOT analysis for social media insight at DH, we developed a new strategy building on the previous version: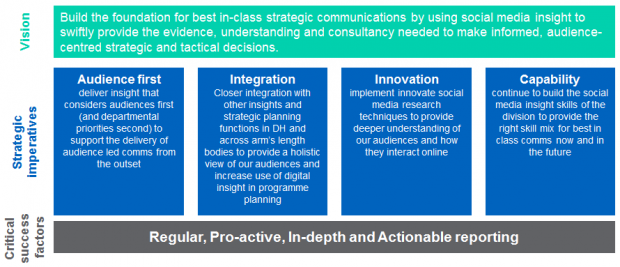 This should place the focus of our work firmly on our audiences and ensure the social media insights team continue to provide an expert function while improving the basic skills of the rest of the division.
A glimpse of the future
We are already taking the first steps to put this strategy into action. We have started discovery and prototyping phases for new audience profiling (integrating insight from multiple sources) and started to explore innovative social media network analysis to provide deeper and more robust insight. More on these to follow…