If you haven't heard of her already, there is a remarkable lady called Kate Swaffer. She is, as she puts it in her twitter biography, an advocate for people with dementia, living well with young onset dementia, a speaker, author, poet, blogger, chef, wife, mother and friend.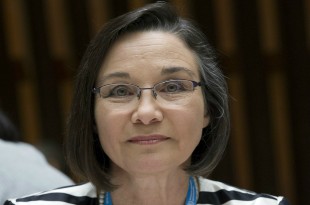 You might have heard her speak at the recent WHO dementia event, which was streamed live. She made lots of significant points, but from a digital perspective, there was one thing she said that particularly stuck in my mind:
[World Dementia Envoy] Dr Gillings suggested that perhaps people with dementia need to take to the streets with placards, in the same way the gay and disabled communities did 30 years ago. We may not be doing that in front of parliament houses, but we are doing that online, and we are working hard to have a voice…
And it's true – Kate and many other people with dementia are making themselves heard online in different ways. The first time I heard of Kate was on twitter, talking with other people who have a strong interest in dementia. I would never have known about Kate otherwise – she lives in Australia for a start.
As she demonstrated so well when addressing the representatives of 80 countries, she has a unique contribution to make because of her lived – and living – experience of dementia, both as a carer and as someone with a dementia diagnosis. And when you don't have the chance to hear her at an international event, you can gain that perspective on her blog kateswaffer.com and by joining more than 2,200 people who already follow her on twitter (@KateSwaffer).
And this is why digital engagement matters – because it gives us access to people who have something to say, people who are directly affected by what governments do at an international, national and local level. People we might not hear from otherwise. People who need to be heard.