Over the past few months, we've been working with colleagues from across our community of arm's length bodies (ALBs) to understand how we could improve the advice and guidance around digital spend controls.
This has been a partnership between Public Health England (PHE) and the Department of Health and Social Care (DHSC) digital teams, building on PHE's work to support their teams through the digital spend control process. Read more about PHE's initiative in Kassandra's recent blog post.
We already knew there were things that needed improving, but first of all we wanted to understand how the ALBs view the current process and the spend control form.
In health and care the majority of digital projects are delivered outside of the core department, by our ALBs. We spoke to 6 colleagues who often need to complete and submit the form, from 4 of our ALBs: Medicine and Healthcare Products Regulatory Agency (MHRA), NHS Business Services Authority, NHS Resolution and NHS England.
The findings
To start with, we used post-it notes to cluster the common quotes and themes that emerged from our interviews. Rather than highlight everything we discovered, here are some of the most interesting and insightful themes that emerged: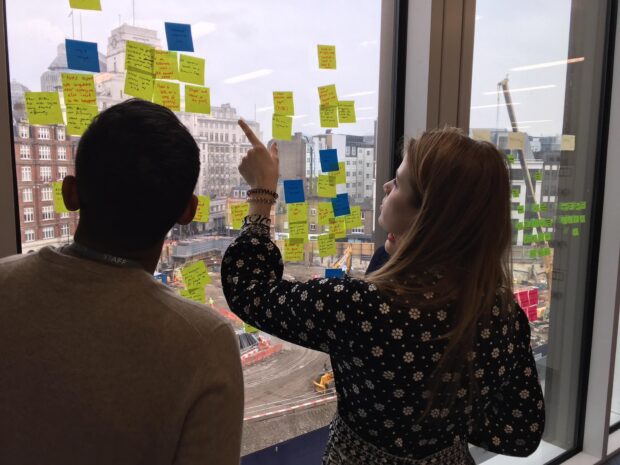 Different ways to do assurance
Ping-ponging back and forth is ridiculous – let's sit down and chat
Our users suggested DHSC rethink the way we do assurance. They said assurance should go to where the project is – rather than the project having to stop or change its approach to fit the requirements of assurance.
Some of the best ideas included:
attending the regular show-and-tells to get a picture of the project as it progresses, rather than just seeing a snapshot at the end. As one of our interviewees stated, we should "be physically present at the stand-ups, the stakeholder meetings"
maintaining contact and conversations with the projects as a way to boost the spend controls process
introducing separate spend controls for specific phases. Several people mentioned the difficulties of completing a spend controls form at discovery, when things are unclear and fluid. They suggested that the form itself be tweaked for the different stages, so it better reflects agile ways of working and focuses on relevant information for alpha and beta
delegating some responsibilities to ALBs. Users suggested that for some activities (like hosting), ALBs could report spending retroactively to DHSC every 3 to 6 months
The spend controls process
Personally I agree there should be a limit on digital to stop people creating things in the bedroom.
Very 'waterfall' approach – not very agile.
We found there are problems with the spend controls process, like a lack of transparency, as well as confusion about which controls projects need to go through.
Some of the feedback included:
there's generally a negative perception of spend controls – especially the time and resources it takes to get a digital project through. But it wasn't all negative, as there was a clear acknowledgement that spend controls are a good thing:
The spend control people are not there to reject stuff but to make sure we are doing things in the best way possible.
for many of our interviewees, in particular those working with the spend control form, the process is often unclear. People were unsure of timescales and points of contact
there's a lot of confusion around the different controls – like whether or not a spend is classed as digital or technology, or even comms. This often leads to a push for requests to go through 'softer' controls processes where ALBs might have delegated authority
even where there was a clear understanding of the process, it was often unclear how long the process would take, where a request was in the process and what happens to the request once it's submitted – for example, does it go to a panel or an individual?
for many of our ALBs, there's real frustration that spend controls feels like a 'waterfall' approach overlayed on an agile project approach. The stop-and-start implications interrupt the rhythms of projects and, coupled with service assessments, can threaten delivery
The spend control form
It might be a case of making the form a little bit simpler to understand. It's a worry if people don't understand the language and they are filling in the form.
The form itself, unsurprisingly, stimulated a lot of response.
Language is one of the biggest challenges ALBs face when asking their policy/non-digital teams to complete the form. For those unfamiliar with the language of agile and digital, the form is essentially gibberish. It's clear that within ALBs and even within DHSC, the form is often completed by those from a policy background, and that the language used is a real challenge.
Our users also provided suggestions for improving the form and its guidance. Several people suggested the form should be online, or at least an initial contact or information form. This would let teams make a useful first contact with the spend control team at DHSC, and help triage their requests into an appropriate controls channel.
Finally, there was an interesting 2-fold suggestion that emerged. This concerned the idea of assurance as a service where:
DHSC would have several tiered approaches to assure ALBs, depending on what they want to do
the DHSC digital team would function more like a consultancy, using spend controls as a way to provide extra support to teams that need it
What's next?
The suggestions and candid feedback from our participants really got us thinking about how we could improve DHSC's assurance model and the kind of support we can offer to teams doing a digital health project.
Our next steps are to:
publish and invite feedback on PHE and DHSC's draft guidance for the spend control form
hold a workshop for the ALB community on the DHSC-specific questions in the digital spend control form
share all user feedback and actions with the Government Digital Service (GDS)

Explore options for delegating some digital spend to the ALBs
The DHSC digital team has also formed a working group with a few ALBs to look at how we can approach portfolio level spend approvals. More to come on that soon.
We need your help
As we wrap things up, we'd like thank our participants for their time and insights. We'd also like to continue this work with ongoing input from the digital health community.
If you're part of an ALB team and want to help us update, improve and simplify the guidance and support around spend controls, please get in touch with the DHSC Digital Assurance team at support@digitalprojects.zendesk.com.