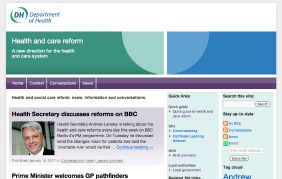 The Prime Minister said the other day that with new demands on healthcare, we can't afford not to modernise the way we do it.
The work that he was talking about - the reform of public health, adult social care, and the National Health Service - is the focus for our work in the Department of Health. So it's the focus for the work of the digital communication team too. But how can the web help deliver health and care reform?
If seems to me that this is a real opportunity for digital communication. We have: a defined timeframe, a set of complex organisational changes that we need to explain, existing active communities of people who care passionately about the issues, and a real need to engage with the people that this will affect - the success of the reforms will depend on these people.
But where should we start and how should we go about it? Should we focus on delivering clear messages or providing platforms for engagement? Should we focus our communication efforts on healthcare practitioners or patients? Should Department of Health officials listen to the online conversations or join in? Or should we do all of these things?
The work doesn't start today - we've been publishing and consulting and engaging around aspects of the transition to the new health and care system since we published the the NHS White Paper in July. But the Health and Social Care Bill is an important milestone in this work, and we're treating it as the start of a new phase for our digital communication work.
So from today we will focus on:
1. People talking to people. Because we think we're more likely to engage people in the process by talking to them. That might mean clinical leaders, or other thought leaders within the system, using digital channels to talk with personal authority about the themes of the reforms. Or it might mean providing platforms for people to have conversations about the detail of the reforms which feed into the design of the new system.
2. Systematic listening. Because we know that people are already talking about the issues we care about. We need to understand what they are saying, and then act on it or respond.
3. An online home. Because we need to provide an authoritative resource to coherently explain the scope of the reforms in a way that people can easily understand, aggregating digital content and conversations in one place.
4. Outreach and partnerships. Because however much we might want to lead the conversation, we know that it will take place wherever people choose, and that might not always be on a corporate government website.
We're launching number 3 today, and a bit of 1 and 2. Our success with this will probably be determined by how well we do number 4.
On number 3, the health and care reform channel will be the central destination for us to aggregate digital content about the reforms.
We'll use it to provide information, setting the context for health and care reform. We'll host conversations, posting what we're saying alongside what others are saying, and inviting comment. And we'll use it to post news, covering our own announcements, and reaction from elsewhere.
I hope it will become a useful resource for people who want to understand how the health and care system is changing, or who want to contribute to those changes.
The site also signals a slight change in direction for digital communication in the Department of Health, as we prepare ourselves to meet the changing needs of the changing Department. We want digital communication to be integral to the way we are managing change, rather than just using it to report on it afterwards. We're using new, more agile methods to do it, and we're benefiting from some work we've done to provide new ways to present digital content. But more on that later.