The Health Product People community was started in January 2018 to bring together people working on digital services across the health and care space to share ideas, collaborate and work together to solve problems. The Health Product People community builds on the good work of the cross-government product and service community.
At our fifth event last week, we looked at what a good supplier looks like.
The event was split into 2 parts:
3 show and tells
a retrospective
Show and tells
Chris Ijoyah, Product Development Officer, Department of Health and Social Care
Chris talked about conducting a sprint with a supplier on the department's intranet. Here's some of the highlights of that talk:
Chris's team and the supplier only used Trello to communicate. This worked really well as it meant that decisions weren't lost in an endless barrage of information (looking at you, Slack)
the next time Chris works with a supplier, he wants to be clearer about the expectation of work to take place
Chris would also plan more to ensure he understood the client's sprint process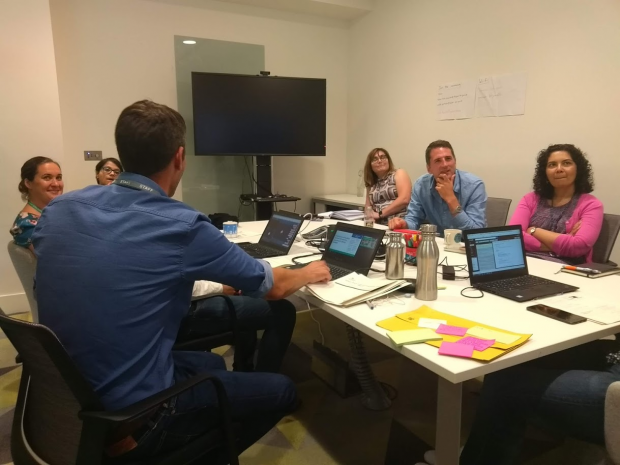 Ben Showers, Digital Assurance and Standards Lead, Department of Health and Social Care
Ben talked about what he looks for in a supplier. Here's some of the highlights of that talk:
Ben talked about the importance of a multidisciplinary team. He talked about having clear separation of roles when working on a project. If someone is fulfilling multiple roles, then it can mean they don't have enough time dedicated to a discipline, for example user research
Ben provided 2 examples of a good supplier–client relationships within government. Common themes he identified in these relationships included:

being agile
having a clear product owner from the internal organisation
strong communication to set expectation of work
relationship management
the client building capability in the internal organisation

Ben mentioned this quote from Hackney Digital Team: "Whilst there's an expectation that suppliers will work hard to fit in with our needs, we can produce better work at a lower cost if we're good to work with". Good communication is critical for any project to succeed
Alex Wolff, Head of Digital Labs at Softwire
It was important to get a supplier's perspective too. Alex talked about his experience working across government. Here's some highlights:
suppliers really care about if they fit a project too. It's better to bid for things they think they can make a valuable contribution to than joining something that they don't have the skills for
the research suppliers inherit can be a challenge as it can be out of date or invalid. While they would love to start from scratch, they often try to make the best of what is available
the pace of delivery teams can often catch out government colleagues who struggle to set aside their day job or work commitments outside of the team. This means they are prone to fall behind with the work of the delivery team
after the first week on a new project it's not uncommon that 50% of what was outlined in the procurement phase is not valid anymore
suppliers also care about what comes next too. They want to make sure that there are good plans in place for what comes next after their involvement is over
Advice to government colleagues:
be upfront and honest during procurement, especially in answering supplier questions. Being transparent about what the work entails means the supplier can judge if they can help quicker in the process. You'll also get better applications from suppliers who are confident they have the skills to do a good job
an engaged product owner is really important. Having someone who is committed and takes responsibility for the product delivers better results
get early GDS involvement. Knowing where the goal posts are sooner allows the team to deliver the right thing
it makes life easier if some of the small stuff is sorted in advance, such as getting passes for your new team mates or making sure they have the equipment they need. Not having this sorted in advance impacts the pace of delivery
be realistic about start dates. Finding the right people to match a project on start dates that are almost immediate after procurement can be tough
Slack tends to be a good communication tool
learn from the private sector and be more ruthless about killing off bad ideas. They do a better job of stopping work that is going to be too risky to deliver or lacks value. If the evidence points to not continuing with a discovery or alpha phase, then follow that advice
Retrospective – reflecting on the event
In our efforts to make this community helpful to our colleagues, we ran a short start/stop/continue retrospective to see what we should begin doing, what we need to stop and what should continue. Below are the responses.
Continue
events – seen as valuable from the community
external perspective – seen as valuable
real-life examples – the community loved that they were used
show and tell sessions
Start
more interdepartmental crossover
more time for discussions
example of mapping exercises
future session on personas
future session on procurement
better dial-in (we'll do better next time!)
a visit to a product/service
sessions in different locations
future session on service assessments
an event with internal and external stakeholders
Nobody asked to stop any of the current practices, so we must be doing something right!
What's next?
We are now in the process of sorting out the next event. We'll explore different venues – perhaps one with better wifi connectivity!
Joining the Health Product People community
Do you work in the health and care space? Interested in sharing your ideas and work with others?
If you answered yes to any of the questions above, please contact dharmesh.chauhan@digital.dh.gov.uk or colin.pattinson@digital.dh.gov.uk with information about who you are, your role and the service you are working on.