Last night, the Government Digital Service took the password off the Inside Government bit of the GOV.UK beta.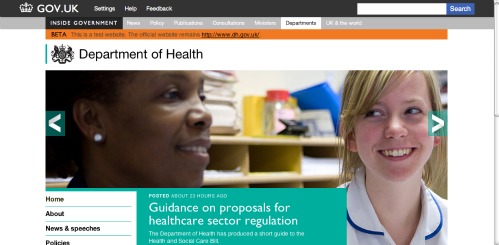 It's the part of the beta that shows how GOV.UK will replace all the different websites run by government departments and other bodies.
It's a test site, due to run for 6 weeks, during which time GDS will collect user data and feedback. You can find out more about it in Neil's blog:
We've added some example DH content to the beta, focused mainly on our social care content. We'll keep adding stuff for the next 6 weeks, by which time the site will probably have changed quite a bit, and we'll all have a much better idea about what to do next.
You probably won't find everything you'd expect to see yet. But there should be enough there to get a good idea of how the DH website and other government websites might work in the future.
So take a look. Share your feedback. And if you work in DH or a government health body, have a think about how your work might fit, and get in touch.